UNDERGROUND EUROPE is the first European record fair and swap exclusively focused on underground vinyl.
With due respect to major label artists, we find it's sometimes very frustrating to go through hundreds of copies of Linda Ronstadt or Michael Jackson records carrying a thin hope to find a Crass or perhaps a Minor Threat record. Why waste time flipping through galore of 70s disco or 90s pop if all you are looking for is 80s Dark Wave? That's why we've decided to bring people of the similar music taste and zest for independent releases together in one place.

UNDERGROUND EUROPE is both a record fair and a record swap. On one hand, you have exhibitors from all over Europe with stacks of secondhand and new vinyl. It's record stores, labels, mailorders, private sellers,... selling vinyl at their stands. On the other hand, you have random visitors bringing in their vinyl to trade and bargain with other visitors or exhibitors themselves. If you are dropping by, bring a box of vinyl you no longer appreciate to trade it with something you do like.

What you can find at UNDERGROUND EUROPE is independent vinyl. If you are into punk, metal, stoner rock, indie, hardcore, noise, psychedelia, garage, dark wave, rock'n'roll, industrial, emo, grind, rockabilly, crust, ska,... chances are you will find here what you are after. Come early to be able to explore all the tables, chat with other vinyl enthusiasts over a beer or soda and listen to some good music.

We are looking forward to meeting you at UNDERGROUND EUROPE!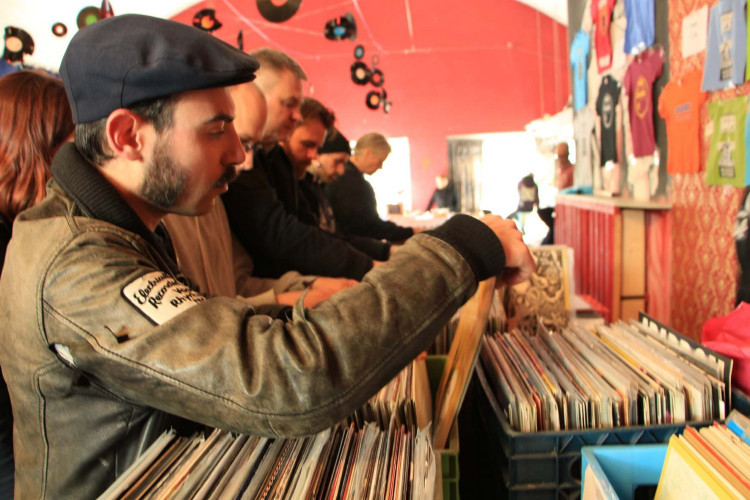 Underground Europe 2015. photo: Ghassen Rahmani